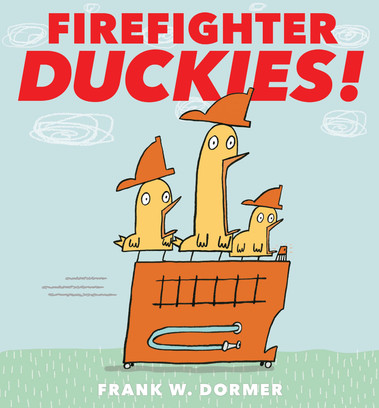 Frank W. Dormer, (author/illustrator)

WEE-OOO-WEE-OOO-WEE-OOO! Here come the Firefighter Duckies!

Frank Dormer is at it again with this quack-out-loud silly story, full of wacky charm and perfect for little duckies of all dispositions.

The Firefighter Duckies are brave and strong. They rescue:
Gorillas in chef hats!
Whales in trees!
Dinosaurs on bicycles!

But when the emergencies requiring their attention become a little overwhelming, the Firefighter Duckies realize that they don't have to be brave and strong to be helpful and kind.
Published by Atheneum Books for Young Readers, May 2017
Editorial Reviews
*STARRED REVIEW* "In an inspired bit of ultra-dramatic silliness, Dormer (The Sword in the Stove) introduces a trio of steely rescue ducks. They wear enormous red hats and are ready to save the day, no matter how ridiculous the challenge.... The nonstop action unfolds in distilled spreads that make the most of the far-fetched cast and many improbable disasters.... Understandably, the firefighters become a bit overwhelmed, and at book's end they're grabbing some well-deserved shut-eye. Readers will be having too much fun to follow suit." ― Publishers Weekly,
*STARRED REVIEW* "Ready and willing, the Firefighter Duckies are the ones to call when you find yourself in a sticky situation. Join our quacky heroes as they valiantly extinguish a fire started by an unhappy cupcake, rescue a weary whale from an angry tree, trim the hairy exteriors of a motley crew of monsters, and so on. While the excitement and peculiarities of their adventures mean there's never a boring moment, there comes a time when even the Firefighter Duckies need some well deserved shut-eye. The repetitive structure of the story's phrasing will have listeners joining in.... The use of thick black pencil strokes gives the illustrations a youthful and cartoonish feel, while the warm and mildly saturated oranges, yellows, and reds provide a silly energy and sense of urgency as the duckies move from one adventure to the next. Audiences will love the determination of the Firefighter Duckies, laugh at the unlikely emergencies, and learn that even our most beloved heroes need a break every now and then." ― The Bulletin of the Center for Children's Books
"Three little ducks have a very dangerous—and silly—job to do. Firefighter duckies must be brave and strong. With sirens blaring, they race toward peril, never knowing who might need saving. Sometimes it is a gorilla, with a chef hat on fire (watch out for those pesky cupcake candles). Or perhaps it is two lemurs tangled in a tree. But whatever the case, they are ready.... Even their firetruck is brimming with personality...absurd situations will elicit storytime giggles." ― Kirkus Reviews
"The Firefighter Duckies are here to save the day in this witty picture book. Three yellow ducklings with red firefighter hats are introduced on the title page. The refrain, "They are brave. They are strong. They rescue…" makes this a natural choice for storytimes and one-on-one reading.... Readers will be rolling with laughter by the time the ducks encounter the hairy monsters. The good news is that in addition to being brave and strong, the diminutive firefighters are also kind and helpful. The digital illustrations complement the spare text perfectly. VERDICT: A wacky read-aloud choice that preschoolers and beginning readers will request again and again." ― School Library Journal
"Dormer's outrageous plot relies on his comical digitally rendered illustrations to fill in what the well-paced text leaves out. In contrast to the amped-up text, the cartoon drawings feature relatively uncomplicated compositions on clean backgrounds, helping to contain the chaos . . . With things still out of control, the Duckies change their tactics, and eventually the grateful characters tuck their rescuers into bed (though the antics continue on the last page). Brave and strong are well and good, but helpfulness and kindness can save the day, too." -- The Horn Book
"Dormer provides a humorous take on the heroic nature of firefighters. Three bright yellow duckies...come to the rescue of a number of creatures: a gorilla whose chef hat is on fire, a whale in a tree, dinosaurs on bicycles, and other unlikely friends in need.... Repetition in the text aids early readers, who will soon be able to chime in with the refrain: "They are brave, they are strong." Add in "They are helpful, they are kind," and you have the whole plot, plus a life lesson to boot." ― Booklist